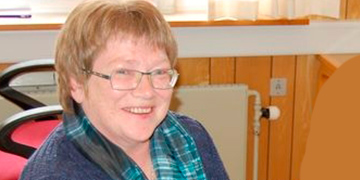 Katrin Margreta Næs
Language researcher and teacher

Connection:
Katrin has a close connection to Fugloy,
where she is descended from.
As a child I frequently visited Fugloy, in the beginning it was to visit my grandparents at Kirkja. When I was a child I spent my entire summer holiday in Fugloy. Those were blissful days.

With time one will notice the beautiful nature and the outstanding view from the village of Kirkja. A visit to Fugloy is good for the soul and mind. Summer is an especially good time, the weather is usually good, there are many hours of sunshine, and it is effortless to go for short or longer walks into the nature.

I recommend the outer islands because: The outer islands are an important part of our country, which we would be poor without. On the outer islands you can – as a traveller – get away from the daily stress. It is good for soul and mind to relax a few days on the outer islands.

If children are with you, then a trip to Vatnsdal is good. The trip is short and the children and playful souls enjoy playing in Vatnsdal. A walk to the summit of Klubban (621 m) is also a good idea. From there the panorama is exceptional. It is also possible to walk on the road between the two villages. When taking a walk from Hattarvík, a magnificent view presents itself when you come up to "Kross" (which is the highest point of the road).

Another suggestion is to walk into Vík – Skarðsvík.